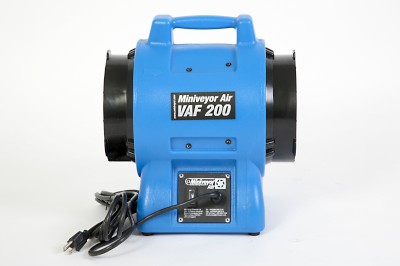 The Miniveyor Air VAF-200 Extractor Fan is a compact and powerful smaller brother of our most popular blower the VAF-300. They are available in either 110V or 230V. The 200mm (8") diameter VAF200 ventilator weighs only 7.5 kg (16½lbs) and can provide 1480 m³/hr (870 CFM) of air flow.
The fan body of the VAf 200 Extractor Fan is made from a dual wall polythene rotational moulding, which allows it to withstand the knocks and blows normally found in industrial use. It can outperform conventional metal bodied portable ventilators several times over. The Miniveyor Air VAF-200's comes with a 10 YEAR warranty upgrade on the fan body.
The VAF-200 Series fans can be easily stacked on top of one another for both storage and operation (up to 3 high) giving maximum airflow from minimum floor space. You can use the VAF-200 with up to 2 lengths of our 7.5m (25ft) ducting.
 
 
Air Flow Rating
 
Power
 
Current
 
Rpm
 
Duct Dia
 
Size
 
Weight
VAF-200
110 Volts
 
1350M3/hour
800 CFM
 
250W
1/3 HP
 
2.6A
 
3450
 
200mm Flange
8" Flange
 
33cm x 25cm x 37cm
13" x 10" x 141/2"
 
7.5 KG
16 1/2ibs
Vaf-200
230 Volts
 
1350M3/hour
800 CFM
 
250W
1/3 HP
 
1.1A
 
2850
 
200mm Flange
8" Flange
 
33cm x 25cm x 37cm
13" x 10" x 141/2"
 
7.5 KG
16 1/2ibs
Download our feature catalogue on the Miniveyor.
Why choose Miniveyor Extractor Fans