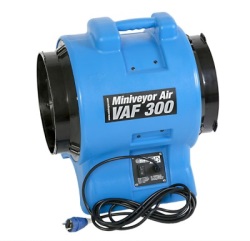 The Miniveyor Air VAF-300 Extractor Fan's are built to provide maximum power where it is needed and is the ideal confined space fume exhauster for welding fumes, concrete cutting or demolition. It is also a great extractor Fan during remediation work following flooding to dry out buildings. The VAF300 vane axial fan, our biggest selling ventilator worldwide, is the professional choice for construction site work and is available in either 110V or 230V.
The fan body is made from a dual wall polythene rotational moulding which allows it to withstand the knocks and blows normally found in industrial use. It can outperform conventional metal bodied fans several times overThe VAF-300 comes with a 10 YEAR warranty upgrade on the fan body.
The Miniveyor Air VAF-300 vane axial fan has several new improvements over the previous design: Americ VAF-3000 ventilator, including a stronger duct ring with integrated grill, improved duct fixing, strengthened motor mounting, and reduced weight.
 
 
Air Flow Rating
 
Power
 
Current
 
Rpm
 
Duct Dia
 
Size
 
Weight
VAF-300
110 Volts
 
3400M3/hour
2000 CFM
 
750W
1 HP
 
7.1A
 
3325
 
300mm 
12" 
 
44cm x 36cm x 54cm
171/2" x 14" x 211/4"
 
15 KG
33Ibs
VAF-300
230 Volts
 
3400M3/hour
800 CFM
 
750W
1 HP
 
4.9A
 
2750
 
300mm Flange
12" Flange
 
44cm x 36cm x 54cm
171/2" x 14" x 211/4"
 
15 KG
33Ibs


Download our feature catalogue on the Miniveyor.
Why choose Miniveyor Extractor Fans