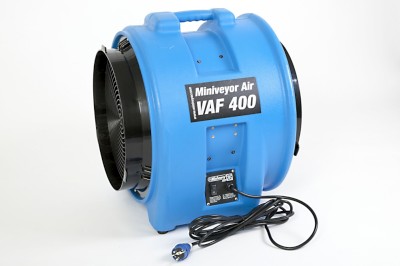 The Miniveyor Air VAF-400 Extractor Fan packs a big punch and delivers a massive 7500 m³ per hour. Available in either 110V or 230V, the rugged, second generation design, VAF-400 vane axial fan provides maximum airflow when it is needed. The Mono phase blower draws a surprisingly low current compared to its performance, making it a practical solution for confined space ventilation, welding fume extraction, or fresh air blower.
The fan body is made from a dual wall polythene rotational moulding which allows it to withstand the knocks and blows normally found in industrial use. It can outperform conventional metal bodied fans several times over. The VAF-400's comes with a a 10 YEAR warranty upgrade on the fan body.
The Miniveyor Air VAF-400 is designed to push large volumes of air through ducting, enabling the user to get too hard to reach areas.
 
 
Air Flow Rating
 
Power
 
Current
 
Rpm
 
Duct Flange Dia.
 
Size
 
Weight
VAF-400
110 Volts
 
7500M3/hour
4450 CFM
 
750W
1 HP
 
8.8A
 
3450
 
400mm 
16" 
 
43cm x 54cm x 56cm
17" x 211/4" x 22"
 
20 KG
44 lbs
VAF-400
230 Volts
 
7500M3/hour
4450 CFM
 
750W
1 HP
 
7.2A
 
3250
 
400mm 
16" 
 
43cm x 54cm x 56cm
17" x 211/4" x 22"
 
20 KG
44 lbs


Download our feature catalogue on the Miniveyor.
Why choose Miniveyor Extractor Fans