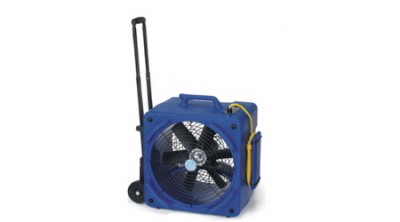 Using downdraft technology, the NEW Miniveyor Air VAF-FFD Fast Floor Dryer Fan downdraft floor dryer is capable of drying an entire room in minutes. The powerful 6 blade precision fan blade draws down warmer, drier air from the top of the room and blows it across the entire floor.
The heavy duty swivel castors on this Fast Floor Dryer provide easy mobility and position the unit at optimum downdraft height. You can stack the dryers for easy storage and transport if necessary and the in-built telescopic handled trolley allows you to move the fan from job to job with ease.
• The dual wall tough plastic moulded body will not dent or ding.
• Stack for easy storage and transport.
• 360 degrees directed airflow - no more drying a room one section at a time.
• Multi position versatility.
• In built trolley for easy mobility.
• One dryer can dry a typical room in 15 minutes. 
 
 
Air Flow Rating
 
Power
 
Current
 
Rpm
 
Duct Dia
 
Size
 
Weight
VAF-FFD
110 Volts
 
5950M3/hour
3500 CFM
 
186W
1/4 HP
 
2.2A
 
3325
 
 
 
58cm x 59cm x 68cm
23" x 231/4" x 263/4"
 
24 KG
53Ibs
VAF-FAD
230 Volts
 
75000M3/hour
4450 CFM
 
186W
1/4 HP
 
1.8A
 
2750
 
 
 
58cm x 59cm x 68cm
23" x 231/4" x 263/4"
 
24 KG
53Ibs


Download our feature catalogue on the Miniveyor.
Why choose Miniveyor Extractor Fans