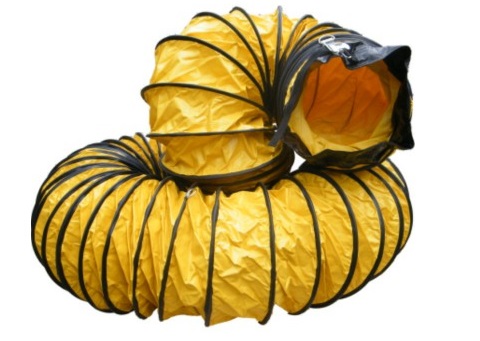 The Miniveyor Air Flexible Ducting is available in 7.5m (25ft) lengths and is ideal to ventilate confined areas where a fan cannot reach. A robust yet lightweight ducting consisting of a yellow, nylon reinforced, PVC coated fabric with a rugged black thermoplastic spiral scuff strip encapsulating a spring steel helix provides additional external protection. Each end is fitted with a strong reinforced black cuff, incorporating a nylon webbing speed clamp for rapid fixing to the fan or coupler.

Our Ducting is:
• Resistant to Ultraviolet light
• Robust construction makes it ideal for construction and rental applications
• Easily compressed by 85% for easy storage and transportation
• Operating temperature range -0°C to +95°C (32°F to 203°F) in 20°C (68°F) ambient
• Self Extinguishing fire resistant properties
• Use for blowing and extraction
• Join multiple lengths using Couplers.

The most popular extractor fan, the VAF-300 can ventilate confined spaces with up to 5x 7.5m (25') lengths of flexible duct attached. This allows the ventilator to be used in a diverse range of jobs:
Underground contractors use long lengths of duct for purging underground tanks, tunnel ventilation etc.....Some jobs require in excess of 37.5m (125') of duct. 
If more than 37.5m (125') of duct is necessary on a job, use the VAF-300 as a booster. Simply run 22.5m (75') of duct on one fan, attach the duct end to another fan and attach an additional 22.5m (75') of duct. The total duct length is 45m (150'). 
The boosters can be continued in any length required. Run boosters in excess of 1,000 feet.
Actual Air Flow Rates
VAF-200 110V

CFM            

M³/Hour      

Actual Air Flow Rates
VAF-300 230V    

CFM      

M³/Hour 

Free Air

1300

2208
 Free Air
2500
4247 
7.5m (25ft) Straight

1100

1868
7.5m (25ft) Straight 
2150
3652
7.5m (25ft) 1 x 90º bend

1050

1783
7.5m (25ft) 1 x 90º bend
1950 
3313 
7.5m (25ft) 2 x 90º bends
 

875

1486 
7.5m (25ft) 2 x 90º bends
1950 
3313 
15m (50ft) Straight 
 

1000

1700 
15m (50ft) Straight
2100 
3567 
30m (100ft) Straight 
 

950

1614 
 30m (100ft) Straight 
1900 
3228 
 Actual Flow Rate readings taken at 23.5o C (74.4oF) ambient